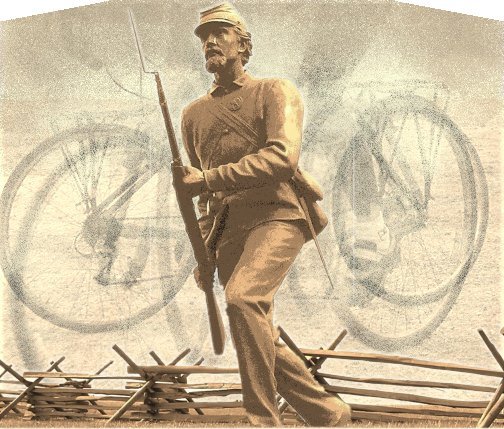 While we were in California, Ja was looking through his bicycling magazine at different bicycling events that were happening around the country. He noticed there would be a century bike ride in Maryland. He had been wanting to ride 100 miles for some time and was very excited to find out in would be on September 12th. So we looked it up online and it only cost $25 to ride and it was on a Saturday. He registered right away and was so excited to ride his first century. We looked up the bike route to find out it went through Civil War sites in Maryland and up through parts of Gettysburg, hence the name Civil War Century. This made him even more excited.
Because of moving he didn't get to train as much as he would have liked, but he rode two 50 mile bike rides and would ride on his bike trainer at nights.
On Friday night we drove up to Emmitsburg, MD were our hotel was. He ate a big bowl of oatmeal then it was off to bed. We had to get up early the next morning to drive down to Thurmont, MD to register and start the race. Ja was a little nervous but it didn't really show. I was planning on meeting him at all the rest stops along the 100 miles to see how he was doing. That also meant I got to enjoy the scenery with him too. Luckily there were turn by turn directions for the riders to follow so I picked one up and used my handy dandy iphone to map out where the rest stops were. I didn't follow the bike path because 1) I didn't want to be in the way of the bikers and 2)their route wasn't necessarily the fastest because they were trying to get the miles in.
I met Ja at the first rest stop in Antietam. I felt a little funny because I was the only non-rider aside from the volunteers who were handing out food, water, and gatorade. I had Ja stand by this monument for a picture. I didn't take pictures at any other rest stop because they were at fire stations and weren't as cool looking.
I met Ja at the three other rest stops along the route. He said those rest stops saved him because he would get so hungry in between and it was nice to actually take a rest from pedaling. I really enjoyed meeting him because it was fun to drive through the countryside of Maryland. At the last rest stop on man said to me, "I see you at every rest stop and you don't even look tired!"
Some people may have thought I was weird for following my husband around but I couldn't ride in the race so I still wanted to participate somehow in Ja's first century. I was happy I could be there to support him. Ja said he really appreciated it too.
Here is Ja riding to the finish line. The race ended up being 104 miles because of some detours they had to make. I was so proud of him for finishing. It took him almost 8 hours to finish. Not only was he pedaling for 8 hours he had to sit on the seat for 8 hours!
While riding some of the riders talked and asked how many centuries Ja has done. When he told him this was his first they said, "Wow, you picked a really hard one for your first century!" In total they climbed 7400 feet! Fortunately Ja enjoys riding up hills but it's still a hard ride. The last stretch was mostly downhill but the wind picked up and was blowing against them so you had to pedal to move anywhere.
I am really proud of Ja for doing this 104 mile ride. He said he doesn't feel as empowered as he thought he would, he feels more humbled because there were a lot of older men who passed him and seemed to be having an easy time. There was one older man I saw a lot who had a Spongebob jersey and do-rag who seemed to be just cruising along. At one rest stop I saw him eating beef jerky and drinking a coke. Ja learned that he man rides his bike to work everyday. He looked to be in his later 60's. You can't judge a rider by his age.
Here is the cool shirt Ja got from the ride. It says "The ninth annual Civil War Century 2009, Baltimore Bicycling Club." Ja wants to ride it again next year and improve on his time. I'm so proud of you Ja!